WHAT IS
MEDICAL QIGONG
Medical Qigong is an ancient form of Chinese energetic medicine that recognizes the causes of symptoms or disease and treats the client as a whole. Medical Qigong therapy treatment consist of tuning up the organs, balancing and harmonizing the major energy centers in the body and to correct imbalances and blockages in the body's energetic system.
Is Medical Qigong
FOR YOU
Medical Qigong is a great way to take charge of your health and well-being in a natural way. Whether used for healing or preventative medicine patients experience feeling energized and refreshed.  They also experience deep restful sleep, clear focused thoughts and an overall sense of being grounded, balanced and connected to the inner self.
Our Mission
AT GREEN DRAGON, OUR MISSION IS TO SHARE THE NATURAL HEALING OF TAI CHI AND QIGONG. WE HOPE TO GUIDE YOU ON OUR JOURNEY TO CONNECT WITH THE DIVINE AND SHARE THAT LIGHT WITH THE WORLD.
Our Qigong Professionals

Is your loved one living with a chronic condition, recovering from illness, or simply in need of returning to physical and emotional equilibrium?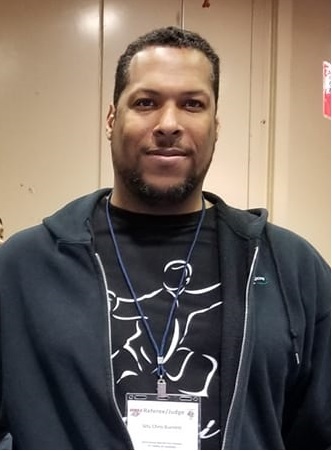 Chris Burnett
Certified as a Master Level Instructor by the American Tai Chi and Qigong Association Chris Burnett has trained in martial Arts and medical Qigong.
Testimonials
What They Say About Us
"Chris has a powerful presence and connection with qi / chi that is very evident. Chris administered a medical qigong treatment to me, and he quickly picked up on the several physical and energetic issues I was dealing with. I felt an intense energy exchange happening during my treatment and was immediately left feeling refreshed and centered. The effects of the treatment were subsequently reflected in my tai chi practice and physical constitution. In my experiences watching and working with Chris, I have personally witnessed his genuine devotion to learning and sharing the sacred knowledge of tai chi and qigong. Chris has a kind heart and a true awareness of the tremendous power of energetic healing. I recommend Chris' services to anyone who seeks qigong treatment."
Ronald Lemieux
"I was fortunate to take several months of lessons with Chris this past year. He not only helped me refine my movements of the Yang style long form, he also opened my eyes to how the martial and health/meditative aspects of Tai Chi are inextricably connected. Though we didn't have a chance to go into a lot of depth with Push Hands, I learned enough to glimpse what a powerful tool this practice would be toward mental and physical balance and strength. If I ever have a chance to reside in the NE Ohio area again, Chris will be my top choice for Tai Chi and Push Hands instruction. It's going to be tough to find an instructor with his level of knowledge, passion and patience. Thank you, Sifu Chris!"
Tulsi Nadote